Hello everyone, today I get to share another fabulous image from
LeAnn's World 101 Shop
, which you can also view on
LeAnn's World 101 blog
!  Hope you are having a great day.  My life has been crazy busy with my oldest daughter/child's graduation from high school on May 19 and then her graduation party this past weekend May 26.  Also, my brother and his family came in for party and to visit for the long weekend here in US.
The image I chose this week is
Mariena
and she is gorgeous.  She is also one of the many wonderful images you will find at
LeAnn's World 101 Etsy Shop
.  Make sure you pay a visit over there as you are going to love all the fabulous images!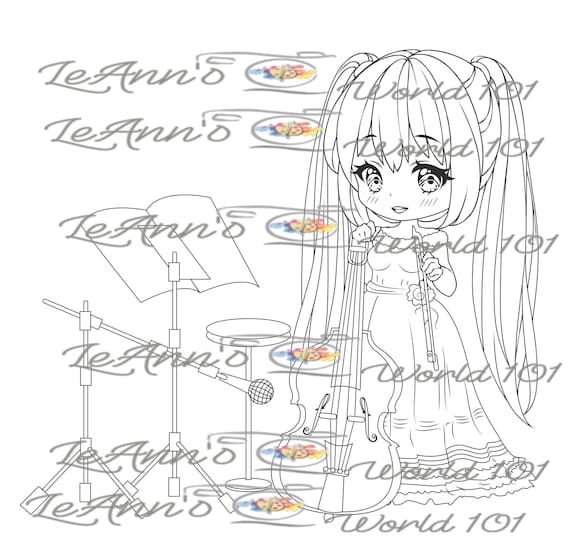 I absolutely love this image due to the awesome instruments included – as you may remember, I love images that include a person as well as some type of scenery, so you can see why this image is one of my favorites.    I colored Mariena with my Copics, silver Atyou Spica and black Copic multi-liner.  Here are the Copics I chose for my coloring:
Hair E31, YR31, E51, E50
Skin E04, E11, E21, E00, R32, R30
Dress RV99, R39, R46, R29, R24
Microphone stand, seat and music stand T7, T5, T3
Sheet music E43, E42, E41, E40
Cello E37, E35, E33, E31, E30
Image is highlighted and surrounded with RV91 and blended out with Copic blender ink in my water brush.  I drew in the wood floor with E37, E35, E33, E31
Image is cut out with die from MFT and I daubed the edges with Versa Magic Eggplant color. 
I used papers from Recollections and Paper Arts.  This awesome fold is called "The Impossible Fold," I found it on Pinterest and the tutorial can be found on Mixed Up Craft Blog.  I love how it displays this beautiful image.  I chose to make this fold with an 8 x 10 piece of cardstock.  I added some hand painted buttons from my stash and bling from Darice.   Sentiment is from a rubber stamp in my stash, stamped with Versa Magic and embossed with JudiKins embossing powder and heat embossed.
I sure hope you like it and that you come visit us over on LeAnn's World 101 Facebook Fan Page.    
Hugs!!  Audrey DT