Hello everyone!  Hope you are having a great day.  I'm back again.  Today I am honored share another fabulous image from LeAnn's World 101 Shop, you can also view my card recipe on LeAnn's World 101 blog!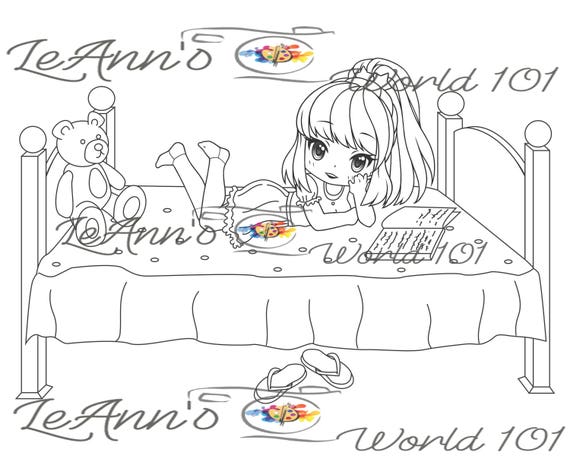 The image I chose this week is
Dear Diary
and she is fabulous and such fun to color with all the awesome scenery included in the image.  She is also one of the many wonderful images you will find at
LeAnn's World 101 Etsy Shop
.  Make sure you pay a visit over there as you are going to love all the fabulous images and new items are being added all the time!
I colored this beauty with my Copics and Atyou Spicas.   Here are the Copics I chose for my coloring:
Hair E47, E35, E31
Skin E04, E11, E21, E00, R32, R30
Bedframe E77, E35, E23, E31
Bedspread YG67, YG63, YG91
Flip Flops BG15, BG11, BG10
Teddy Bear E77, E74, E71, E70, E49, E31, E30
Image is highlighted and surrounded with RV00 and RV000 and blended with Copic Colorless blender and grounded with E42, E41, E40 and blended out a bit with Copic colorless blender.
I chose this way cool front arrow fold that I found at Mixed Up Craft Blog.  You can find the template for this cool fold on the blog.  I love how it turned out!  I chose papers from Pink Paislee, sentiment from Riley and Co. that is cut with die from my stash and heat embossed with Gina K. Designs embossing powder.  I added Recollections butterfly stickers and buttons from Buttons Galore.  This is the full inside of the card.  Image is cut out with Tattered Lace die.
I sure hope you like it and that you come visit us over on LeAnn's World 101 Facebook Fan Page.    
Hugs!!  Audrey DT