Hello everyone, today is my first post on the brand new
LeAnn's World 101 blog
! Hope you are having a great day. Believe it or not, it is snowing here in Ohio. My friends and I are calling today the 75th day of January - at least that's what it feels like. I guess that is part of the reason that the image I chose for today is happy, cheerful and shows signs of spring or summer!
This is
BRIDIE
and she is one of the many amazing images you will find at
LeAnn's World 101 Etsy Shop
. Make sure you pay a visit over there as you are going to love all the adorable images!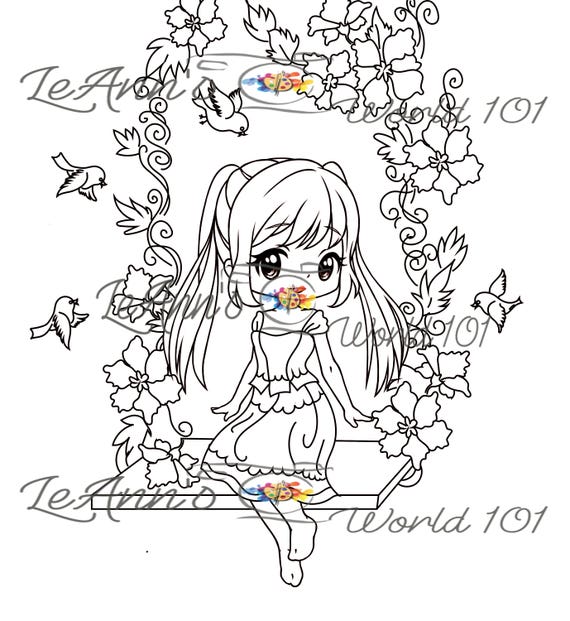 I colored this beauty with my Copics, and as I said, I focused on happy, fun colors which remind me of spring - nice bright pinks, purples and teal. Here are the Copics I chose for my coloring:
Hair E18, E39, E33, E53
Skin E04, E11, E21, E00, R32, R30
Outfit V09, V06, V05, V04, RV19, RV29, RV25, BG09, BG49, BG57, BG53
Flowers use the following combos:
BG09, BG49, BG57, BG53
Y00, RV04, RV02, RV00
BV08, BV04, V06, V04
Y06, RV25, RV23
RV66, RV55M RV63
R29, RV19, RV29, RV25
Leaves G99, G85, G82, G40, G24, G21, G20, YG23, YG17
Birds BG09, BG49, BG57, E33, YR23, Y17
Wooden swing seat E47, E77, E37, E55, E31
Image is cut out using my Cameo. I chose to do a fancy fold card to showcase this image. I often do my own cutting and folding when I make fancy fold cards, but for this one, I used my Cameo. I did alter the original design a little as far as size and layers and I only used the trees that came with the design. These stunning papers are from a new DCWV paper pad and my sentiment is from Unity rubber stamp and cut out with Nestie. I stamped it with Brilliance ink and then embossed using my heat gun. Finally I added some blingy discs to the bottom left. I really hope you like it and have enjoyed learning how I colored and created my card.
Hugs!! Audrey DT